Starch Europe's Position on the Taxonomy Regulation's draft delegated act on climate-related objectives and its annexes
Starch Europe would like to express its deepest concerns following the Commission's publication of the first draft delegated act and its annexes supplementing Regulation 2020/852 establishing a framework to facilitate sustainable investments, which pose a serious threat to the competitiveness of the sector and to its ability to contribute towards climate change mitigation and adaptation.
In this position, we lay out our reasoning why we believe it is essential to remove the references made to the uses of agricultural raw materials for industrial and energy applications such as plastics, biofuels for transport, biowaste and organic chemicals, stating that a key criterion is that "Food or feed crops are not used as bio-based feedstock for the manufacture" of these biobased products and ingredients, that constitute key outlets to the EU starch industry.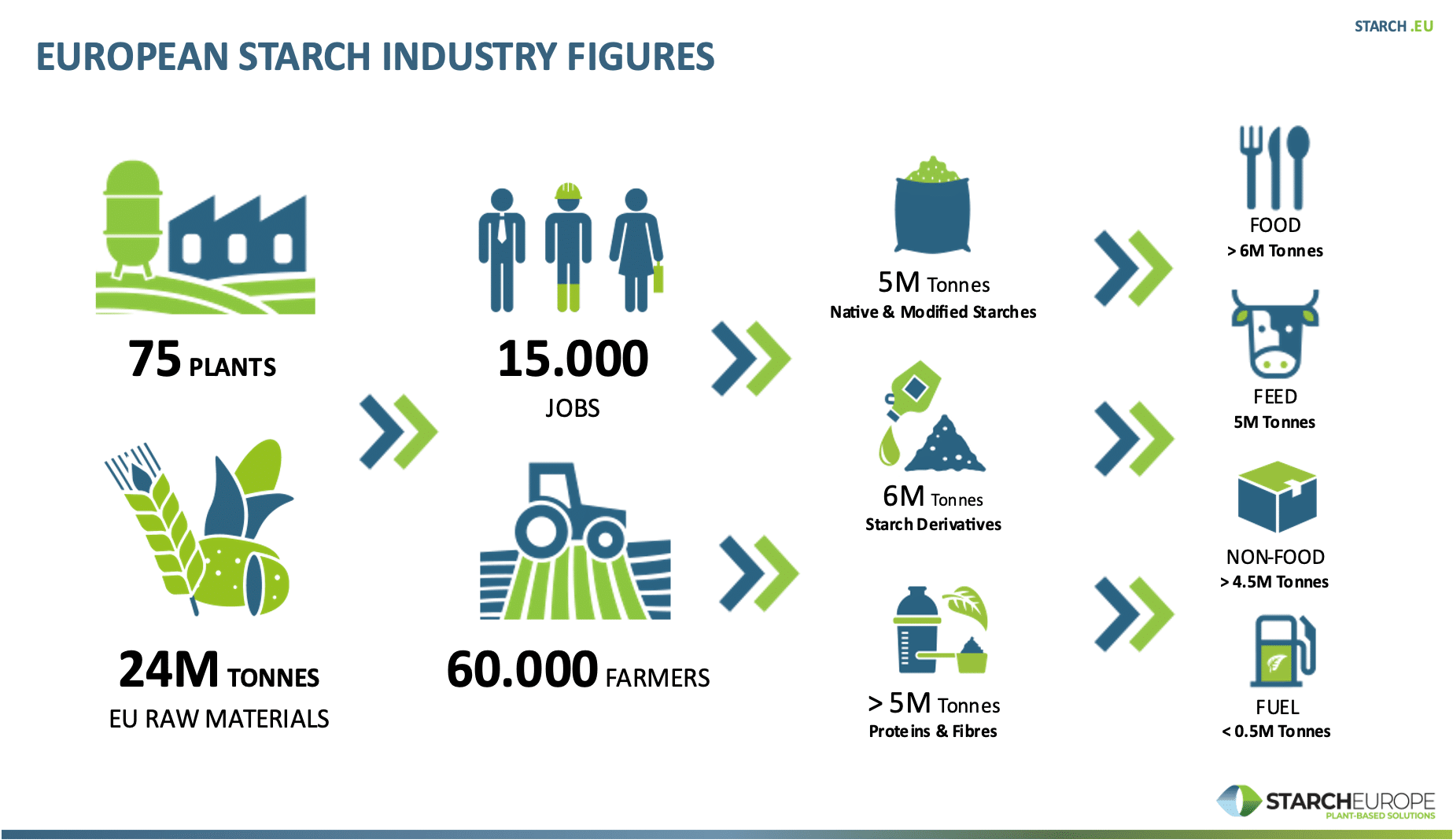 1. The EU starch industry is not only an important contributor to the EU bioeconomy, it is one of its pioneers
The bioeconomy offers huge potential to tackle societal challenges such as resource efficiency, climate change, enhancing European sustainability and value creation. According to the Commission's Joint Research Centre's fact sheet, "the European bioeconomy generates a turnover estimated at around 2 trillion euros and employs more than 17 million of persons"[1]. It plays an important role in boosting Europe's competitiveness by revitalising rural areas, thus providing growth and jobs over the next decades.
1.1  A versatile industry
Biorefineries are the cornerstone of the EU bioeconomy valorising biomass, by- and co- products and waste feedstocks into added-value bio-based products that substitute fossil resources. In the bioeconomy, land use and food security are optimised through a sustainable, resource-efficient and almost zero-waste utilisation of Europe's renewable raw materials, therefore contributing significantly to a circular economy.
1.2  Valorising all of its agricultural feedstock efficiently and sustainably
The starch industry does not only produce starch. The over-riding objective of starch producers is to valorise all the components of the agricultural raw materials it extracts and processes and produce minimal waste; less than 1% is not valorised. During the starch production process, the European starch industry also produces 5 million tonnes of valuable oil, fibres and proteins which are used for both animal and human nutrition. The more starch the industry produces, the more protein and fibre-rich co-products it produces, thus providing high quality feed and helping to compensate for the EU's structural deficit in plant proteins.

1.3  Non-food uses are part of the history of starch
Ever since the starch industry began, starch has been associated as much with its non food uses as with food ones. The first historic references to starch, which date back to 4000 BC, describe its use by the Egyptians in strengthening papyrus. Its use as an adhesive in paper persists to this day, with the starch content of some modern day paper being up to 10%. In the 16th century in Europe the major outlet for starch was a stiffener in the textile industry, again a use for which it is still associated today.
Starch is renewable and biodegradable. As such it is a well-suited raw material for the sustainable use of agricultural products in the bio-based industry. On top of the more traditional non-food outlets like paper and textiles, the EU starch industry today produces bio-based products that are used as raw materials, generally replacing fossil-fuel-based ingredients, in the fermentation, construction, chemical, cosmetics, plastics and detergent industries. In an effort to expand and develop  this list of non-food outlets further the EU starch industry makes considerable investments in Research and Development, much of it in the development of bio-based products.
1.4  European starch industry's diversity of plant-based protein product categories
Through targeted innovation, the EU starch industry has also developed a broad portfolio of valuable plant-based protein ingredients with high-protein content. These plant-based protein ingredients provide both functionality and nutritional qualities in a wide array of food and specialised feed applications.

In response to market demand and in support the EU's Green Deal and Farm to Fork strategies, the starch industry is investing in its protein potential to introduce new crops, to valorise even more the protein fraction contained in the grains, the peas and the starch potatoes and to sell them to the food and feed markets, which will increase the added-value of the whole starch supply chain.
2. Consistency with EU policies and regulations
EU Regulation 2020/852 itself, which is intended to be supplemented by the delegated act, also states that when establishing and updating the technical screening criteria, the Commission should take into account "relevant Union law".
Despite this, we note the following inconsistencies and contradictions between the consequences of this draft delegated act if no changes are made, and EU statements and policies:
Furthermore, we have additional concerns about the usability of the criteria, and the availability of data necessary for the implementation of the draft delegated act.
3. Better regulation and sustainability
The EU starch industry has always been considered as a key player in the development of the EU bioeconomy. By making the uses of the EU starch industry to some industrial applications "unsustainable for investment purposes", we believe that the draft delegated act goes beyond its supplementing role, and does not comply with the principle that "the delegated act cannot change the essential elements of the law".
All the outlets of the bioeconomy are instrumental in preserving the competitiveness of its industries and their suppliers; blocking the use of renewable raw materials in some of them, puts the entire value chain at stake. Reaching a nearly zero-waste threshold also requires all the outlets of the bioeconomy.
Sustainability with its three pillars - environmental, economic and social - has for long been central and reflected in the Union project, the Treaty on European Union and the Treaty of the Functioning of the European Union (TFEU). This is also stressed in the Regulation (EU) 2019/2088 on the establishment of a framework to facilitate sustainable investment. Taxonomy addresses only one of the pillars, without looking at the consequences on the other two.
4. Our assessment of the draft delegated act's consequences on the EU starch industry's supply chains
Our assessment of the impact is that large parts of the EU bioeconomy risk being considered as unsustainable for taxonomy purposes, even though their primary purpose is to produce, process and add value to renewable resources as feedstock for making innovative, value-added everyday products and materials. The bioeconomy does not fall under one particular NACE code; instead, its sectors fall either wholly or partly under various NACE codes. Annex I of the draft delegated act refers to the uses of agricultural raw materials for industrial and energy applications such as plastics, biofuels for transport, biowaste & organic chemicals, stating that a key criterion is that "Food or feed crops are not used as bio-based feedstock for the manufacture" of these biobased products and ingredients.
This is of great concern to Starch Europe because of the repercussions such wording would have in terms of investments and forthcoming policies. Indeed, we see taxonomy being referred to as a tool by many, either on a voluntary or mandatory basis. While this could be considered initially as a positive development, as we believe the bioeconomy to be instrumental in achieving the European Green Deal objectives, the eradication of those bioeconomy outlets from the positive taxonomy is problematic. It is precisely because the starch industry is not dependent on any one final product or any one final outlet for its products, that it has successfully developed over many centuries. This has not only benefitted the starch industry itself, but also its customers and the many farmers who depend on it both as a consistent and reliable user of their produce in times of fluctuating food prices, and as such, as an essential contributor to the balance of crop rotation in the field.
In this spirit, we would be grateful if you could share some elements of the impact assessment that led to the consideration that the use of renewable raw materials (e.g. "food and feed crops" of the EU starch industry such as e.g. maize, wheat and starch potatoes) are detrimental per se, and where the alternatives to fossil-based feedstock lie to deliver circularity in materials.
5. Starch Europe's proposal for amendments
For all the afore-mentioned reasons, Starch Europe asks to delete the following sentences in Annex I of the draft delegated act:
Page 89 (Manufacture of organic base chemicals): "Food or feed crops are not used as bio-based feedstock for the manufacture of organic base chemicals"
Page 95 (Manufacture of plastics in primary form): "Food or feed crops not used as bio-based feedstock for the manufacture of plastic in primary form"
Page 126: "Food and feed crops are not used in the activity for the manufacture of biofuels used in transport"
Page 164 (Anaerobic digestion of bio-waste): "such other input material may not include food or feed crops".
More generally, the references and criteria for agricultural raw materials will have to be consistent with other EU regulations.
Mankind is today facing three challenges that need to be tackled simultaneously: food security, climate and environmental change, and increasing energy demand. All this in a context of resource scarcity. Alternatives to fossil-fuel-based products must meet the social and environment challenge and be economically viable.
These are clearly not issues that the starch industry can address alone but renewable raw materials from agricultural origin, like starch, are well-positioned to play a key part in addressing some of these challenges. The responses to these challenges will call on a combination of multiple solutions, including to name but two, those which promote alternative energy sources, and reduce food waste. For its part, what the EU starch industry can do, as it has been doing for many decades, is to help to continue to reduce the EU's dependence on fossil fuel ingredients in chemical and industrial applications, whilst at the same time providing a sustainable and reliable outlet for EU farmers in times of increasing uncertainty, and reducing the EU's protein deficit.
We hope that our serious concerns on the first draft delegated act and its annexes supplementing Regulation 2020/852 establishing a framework to facilitate sustainable investments be taken on board.